We operate and maintain a quality system accredited by Lloyds Register (LRQA) to BS EN ISO 9001: 2008
We rigorously inspect all items during the manufacturing process and prior to despatch to ensure that the very highest levels of product quality are maintained ensuring deviation and non-conformance are kept to an absolute minimum. We have a wealth of experience in manufacturing product to many of the international standards including ASME, BS EN and ISO.
We also supply many products carrying the CE mark according to the Pressure Equipment Directive 97/23/EC (PED) and following a stringent "tri-annual" PED audit in November 2015 by RSA, have been 100% successful in retaining this privilege. .
Our ISO Certificate can be viewed by clicking here
Our Quality System Registration Certificate from The British Engineering Services can be viewed by clicking here
Our Quality System Registration Certificate from The Irish Engineering Services can be viewed by clicking here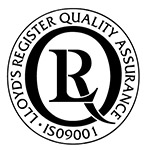 The Arc Alloys Guarantee of Quality    
Since Arc Alloys was established almost three decades ago, we have become synonymous with high quality. We started out in 1988, specialising in the supply of an extensive range of welding consumables to the maintenance, repair and special metal industries.
After a few years in which we fully established ourselves in this area, we then expanded our activities in 1998 and introduced a manufacturing facility. Through this we were able to support customers in the oil, gas and petrochemical sectors, as well as other sectors that required welded pressure vessels and various ancillary products.
* An extensive range of top quality products and services
Since then, our fabrication arm has continued to expand every year. Alongside that, to support and consolidate this growth, our own stock has also grown significantly. So much so that Arc Alloys is now able to offer top quality products to a wide range of clients of any size. These products include pipe fittings and flanges in a comprehensive range of grades of stainless steel, Duplex Stainless Steel, Super Duplex Stainless Steel and Nickel Alloys.
We still supply a range of welding consumables, including a variety of the rarer exotic alloys, and our customers enjoy the same amazingly high level of service that they've always enjoyed. Today, the core of our business activity is material supply, fabrication and welding. Recently we also updated our stock of CNC machinery, thereby enhancing the range of jobs we can do and reinforcing our total commitment to meeting, and then exceeding, our customers' expectations.
* A quality customer-focused team
The Arc Alloys team is happy to utilise its 30 years of industry experience to offer a genuine 24-hour, 7-days-a-week technical support service that covers welding, fabrication, welding process, machining and supply of consumables. We have a team of highly experienced technicians and engineers who focus on building meaningful, long-term relationships with clients. These relationships are at the heart of everything we do at Arc Alloys and they are based on delivering quality products and exceptional customer service. We know how much it means to our customers not only to be able to rely on great products, but also to have the comfort of knowing there is always support available whenever it is required.
* Arc Alloys' quality assurance
At Arc Alloys, we take the time to rigorously inspect every single item both during the manufacturing process and again prior to despatch. We do this to ensure that the highest possible levels of product quality are reached and maintained, as we understand how vital it is that non-conformance and deviation from perfection are kept to a minimum.
* Qualifications and certifications
Not only do we have a wealth of manufacturing experience, but we also have many qualifications and certifications to prove it. International standards we uphold include ASME, BS EN and ISO (which can be viewed here).
We also supply a wide range of products that carry the CE mark of European Conformity and follow stringent regular Pressure Equipment Directive audits. Arc Alloys is proud of its 100% record in upholding these standards.
Contact us today to find out how we can work with you.