ABOUT
US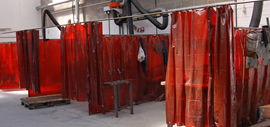 Arc Alloys was established in November 1988 initially supplying a comprehensive range of welding consumables to the repair, maintenance and special metal industries.
The business activity expanded in 1998 with the introduction of a manufacturing facility to support customer requirements with the supply of welded pressure vessels and ancillary products into many sectors, including Petrochemical and Oil and Gas.
The fabrication side of the company has grown year on year; alongside this our own stock has grown significantly to support this growth. So now Arc Alloys is able to offer our clients both small and large packages of pipes, fittings and flanges in most grades of stainless, Duplex, Super Duplex and Nickel Alloys.
Welding consumables, including the more "difficult to source" exotic alloys, are still supplied, with our customers still enjoying the same high level of service. Today however, Welding and fabrication is the core of our business activities with the recent additions of CNC machinery enhancing our ability and reinforcing our commitment to exceed our customer's expectations.
WELCOME
TO ARC ALLOYS
We offer a genuine 24/7 technical advice service utilising 30 years of industry experience in welding and fabrication, consumable supply, welding process and machining.
We empathise with our customers and their needs and know that issues do arise outside of normal working hours. It is reassuring, and can be invaluable, knowing that there is always someone available at the end of the telephone to support you with any queries you may have.
We focus on building strong long-term relationships with our clients, as we consider sound client relationships the most important contributor to our success. We cement these relationships by delivering outstanding customer service promptly and of a consistently high quality.
Testimonials
honest, value for money service to help keep their businesses running smoothly.
Furnace Engineers and Specialist Fabricators
Site Manager
Reassuring that excellent service can still be maintained in the current economic environment.
Manufacturers of Pipeline Components and Industrial Fasteners
Managing Director
At Arc Alloys Peter and the team are experts in welding and the manufacture of pressure equipment and assemblies.
Process Management
Supplier Performance Engineer
PRODUCTS